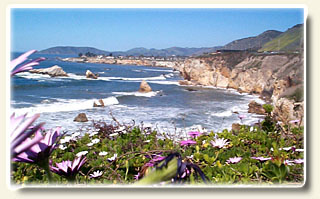 About Pismo Beach Real Estate
Pismo Beach Real Estate Professionals:
If you are thinking about buying or selling Pismo Beach California real estate, you've made a great decision. We are experienced Pismo Beach CA real estate professionals who have been working in the field for many years. We constantly research the market and property values for Pismo Beach real estate so your home is priced effectively. We go the extra mile to help you achieve your dreams. We also make sure the public knows your home is for sale by using innovative advertising and marketing techniques to attract potential buyers. See the Pismo Beach Newsletter to view listings in the Sunset Palisades - The Bluffs area, displayed quarterly. Nobody does a better job in listing, buying and selling Pismo Beach Real Estate!
Let us help you with:
We also specialize in:
About Pismo Beach California and the Quality of Life....Rated the #3 best place to live!
Pismo Beach offers long white beaches for a pleasant stroll or for just enjoying the spectacular views of the Pismo Beach sunset. You can golf, hit the beach, horseback riding, surfing, body boarding, or fishing from our 1200-foot pier. Watch magnificent sunsets from our award-winning boardwalk next to the pier. Living on the Central Coast is paradise with near perfect weather.
Statistics & Facts
The population of Pismo Beach is approximately 7,655 (2015 - Content provided by the US Census Bureau).
58.7% Married population, 5.2% unemployment rate, 51.3 Median Age, 2.13 household size, 20 minute average communte time.
$623,700 Median Home Price
Home appreciation is up 13.1% in Pismo Beach in the last year (2015).
Cost of living is 92% higher than the US average
Pismo Beach public schools spend $10,500 per student. There are about 19 students per teacher in Pismo Beach. See information on schools here.
The approximate number of families is 2,079 (2015 - Content provided by the US Census Bureau).
In the top 3 of "The Best Places to Live" in America!
The amount of land area in Pismo Beach is 8.94 sq. kilometers.
The amount of surface water is 25.504 sq kilometers.
The distance from Pismo Beach to Washington DC is 2490 miles. The distance to the California state capital is 236 miles. (as the crow flies)
Pismo Beach is positioned 35.13 degrees north of the equator and 120.67 degrees west of the prime meridian.
Contact us to help us find or sell your Pismo Beach Real Estate