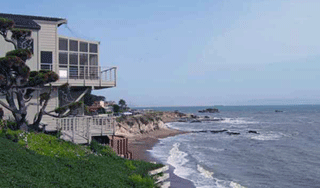 If you are thinking of buying or selling real estate in San Luis Obispo , you have come to the right place! Selling Pismo Beach .com can help you find San Luis Obispo real estate today. We have many years of experience in San Luis Obispo real estate market. View our featured San Luis Obispo real estate on this page or use our search page for more information.
Selling Pismo Beach can assist you with:
Finding San Luis Obispo real estate
San Luis Obispo oeanfront homes and condos
San Luis Obispo new construction
Relocation to San Luis Obispo
Selling your San Luis Obispo real estate
About San Luis Obispo California
80 centuries ago, Chumash Indian country was the heart of the San Luis Obispo County . They lived a pleasing life - great climate, abundant seafood, and natural hot springs to soak in. The Chumash had a rich culture and were brilliant craftspeople and artists. By 1769 the Europeans had arrived under the command of Gaspar de Portola of Spain . With Portola came the Franciscan friars to begin founding the California missions and by 1772, Mission San Luis Obispo de Tolosa was established.. San Luis Obispo was claimed for the United States in 1846 by General Fremont. Four years later, California was admitted to the United States , and San Luis Obispo became one of the original counties.
Nestled in the heart of California 's golden Central Coast this community of over 238,974 residents enjoy our central coast setting, Agriculture, state institutions, recreation and tourism which make up the principal economic background. With the ocean and mountains, the Spanish and historical flavor, the pleasant climate and the relative freedom from urban hassles, San Luis Obispo County is a good place to call home.
Contact us to help you find or sell your San Luis Obispo Real Estate