Shell Beach Real Estate Can be Found Here!

If you are thinking of buying or selling real estate in Shell Beach, you have come to the right place! Selling Pismo Beach .com can help you find Shell Beach real estate today. We have many years of experience in the Shell Beach real estate market. View our featured Shell Beach real estate on this page or use our search page for more information.
See the latest Shell Beach Newsletter (updated quarterly). Find out what homes are listed, bought and sold for in Sunset Palisades, Shell Beach. See all the home transactions that Joyce has been actively involved in (most of them). Joyce has listed most of these very exclusive oceanfront and ocean view homes!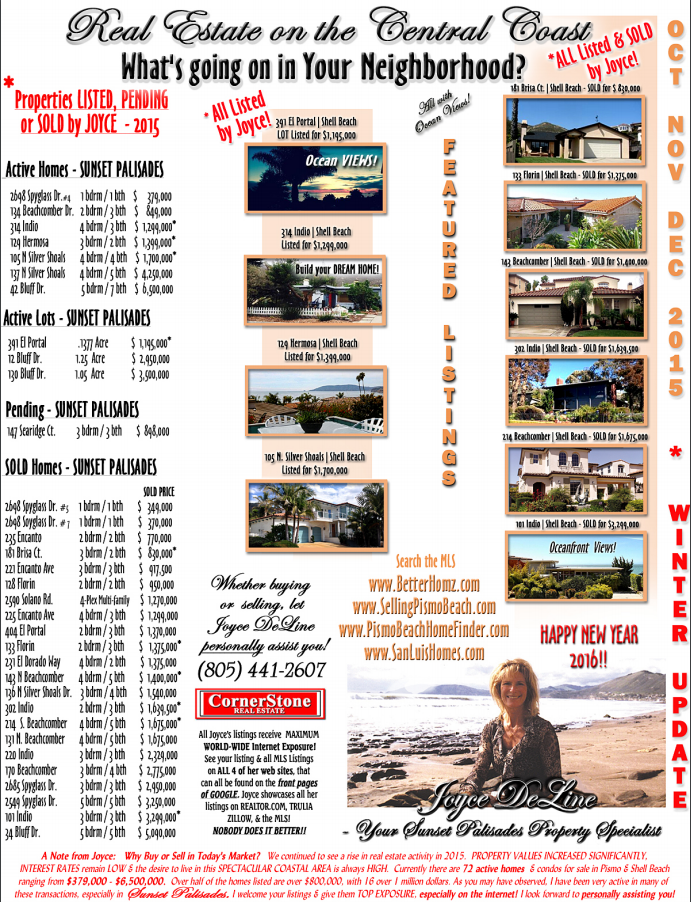 About Shell Beach, CA
Shell Beach provides a summer retreat from the heat of the Central California valleys, developed by businessman Floyd Calvert. In 1926, Calvert paid $45,000 for 41 acres between the ocean and the highways and began development. 20 years later Shell Beach changed from a resort area for residents of the San Joaquin Valley to a residential community. Now the area is one of the state's most admired tourist destinations, offering visitor's impressive ocean views and recreational opportunities. Shell Beach is a great place to live and raise a family.
We are experienced Pismo Beach and Avila Beach real estate professionals who have been working in the field for many years. We constantly research the market and property values for Shell Beach real estate so your home is priced effectively. We go the extra mile to help you achieve your dreams. We also make sure the public knows your home is for sale by using innovative advertising and marketing techniques to attract potential buyers.